Metal Detecting Research & Exploration - A Complete Guide, page 66
Other Forms of Research
OLD PHOTOGRAPHS & LITHOGRAPHS HELP IN PINPOINTING EXACT SPOTS FOR METAL DETECTING
Old photographs, historic lithographs and vintage postcards can be worth a thousand footsteps as well as words. They will give you a first-hand visual description of the place of your interest, let you see all changes that occurred in the area over the years, and enable you to pinpoint exact location of the spot among the modern infrastructure.
19th Century Lithograph Depicting A City Built Around A Paper Mill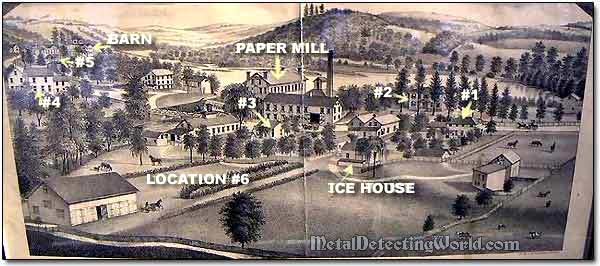 A Good Hunt Site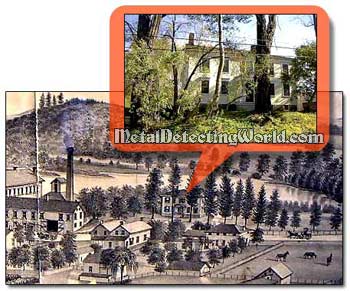 Tools for research can take on other forms and types. More likely you will develop your own research methods and techniques. Always think like a detective, develop a concentrated self-discipline, be persistent, diligent and dedicated, be curious, and have fun!
I Wish I Could Use this 1650 Print of New Amsterdam (NYC) for Exploration and Metal Detecting

I would greatly appreciate any help from you! If you would like to contribute, please make a donation by using PayPal. Your contribution would help me stay afloat and continue putting an enormous effort in making this web site the most beneficial for everyone!
If you would like to recommend this article to everyone, please click the button:
List of 70 Basic Locations for Metal Detecting
Number of pages: < Previous | 1 | 2 | 3 | 4 | 5 | 6 | 7 | 8 | 9 | 10 | 11 | 12 | 13 | 14 | 15 | 16 | 17 | 18 | 19 | 20 | 21 | 22 | 23 |

| 24 | 25 | 26 | 27 | 28 | 29 | 30 | 31 | 32 | 33 | 34 | 35 | 36 | 37 | 38 | 39 | 40 | 41 | 42 | 43 | 44 | 45 |

| 46 | 47 | 48 | 49 | 50 | 51 | 52 | 53 | 54 | 55 | 56 | 57 | 58 | 59 | 60 | 61 | 62 | 63 | 64 | 65 | 66 |