Metal Detecting Research & Exploration - A Complete Guide, page 38
Basic Map Analyzing Techniques
MAP COMPARISON - A TUTORIAL
(CONTINUED from Page 36)
Metal Detecting Location # 3 - Site of Princess Engalycheva's Manor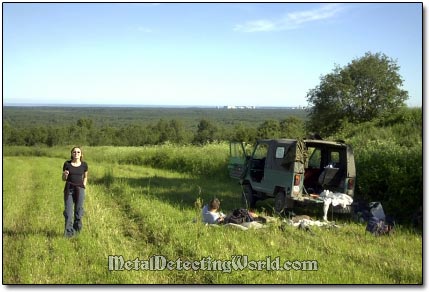 Metal Detecting Location # 4 - Site of Kastivskoe Village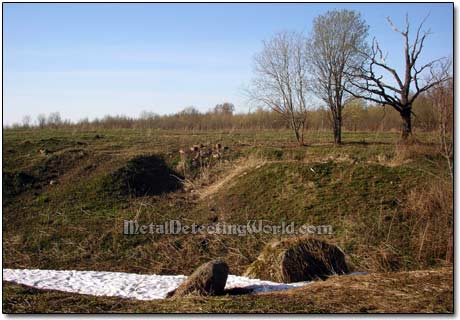 Metal Detecting Location # 5 - Site of Lasuny Village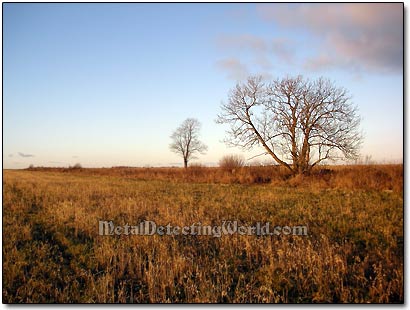 One of my detected coin caches was discovered here. You can read my Full Story on Lasuny Coin Hoard Discovery.
Cache of Silver Hammered Coins, Tsar Ivan The Terrible, circa 16th Century
Though location # 9 was not included into this tutorial, it has been a "fruitful" detecting site - one of many great detecting hunt sites in this area. A huge boulder is a characteristic landmark of this site and probably used to be in the middle of the village.
Metal Detecting Location # 9 - Site of Petrovitsy Village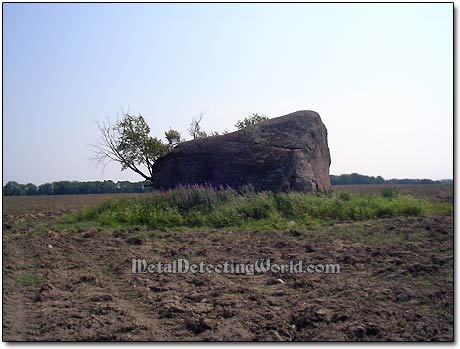 Locations # 7, # 8, and # 10 could be very productive hunt sites. Pinpointing their exact positions requires further research which is out of scope of this tutorial.
Number of pages: < Previous | 1 | 2 | 3 | 4 | 5 | 6 | 7 | 8 | 9 | 10 | 11 | 12 | 13 | 14 | 15 | 16 | 17 | 18 | 19 | 20 | 21 | 22 | 23 |

| 24 | 25 | 26 | 27 | 28 | 29 | 30 | 31 | 32 | 33 | 34 | 35 | 36 | 37 | 38 | 39 | 40 | 41 | 42 | 43 | 44 | 45 |

| 46 | 47 | 48 | 49 | 50 | 51 | 52 | 53 | 54 | 55 | 56 | 57 | 58 | 59 | 60 | 61 | 62 | 63 | 64 | 65 | 66 | Next >