Visitor's Corner - New Additions
This section allows returning visitors to quickly find 10+ recent additions - tutorials, articles, and stories.
NOTE: I am regularly adding small portions of new content to existing sections and pages, which may be not announced here.
A Twitter widget is also placed on the bottom of this page, so you could leave a tweet or follow me (my username is metal_detect) right from this web page!
December 4, 2013:

NOTE: I have not recently added any new articles due to remodeling of all pages (a couple of thousands) of my website in order to keep it compliant to the current World Wide Web standards (HTML5). This is not a simple process for me as I do not have any special education in web design, and it may take me a while to complete this project.
Also, I would like to point out that even though my website is of a simple magazine-like format, it is hard to have it displayed the same way across all modern browsers because some of them, such as Windows Internet Explorer 8 (abbreviated as IE8) and lower versions, and Mozilla Firefox, do not support certain conventional standards of the WWW design. These browsers are simply do not keep up with recent developments in web technology.
For example, the early IE versions may drastically mess up the displayed website's layout, and the Mozilla, as well as some browsers that are utilized in mobile devices, may not display important links on web pages. Without complex encoding, it is impossible to create a webpage layout which would be displayed the way it is supposed to in every browser, but I am going to do my best in optimizing my web pages so that they would look decent across the most modern browsers while being "friendly" enough to all visitors of my website.
The "fixed" pages will appear upon completion of their remodeling, and after I am done with this urgent project, I will resume working on new how-to articles and stories. So please be patient while waiting for them to be published. Cheers!
June 30, 2013:

I added the first article - How To Decipher XP Deus' Ambiguous Audio Responses To Targets of Part II - "Practical Tips for Metal Detecting with XP Deus". This article explains all types of questionable signals and how to decipher them using simple techniques and features of the XP Deus. In terms of knowing all types of ambiguous signals that may be encountered during metal detecting hunts, the article may be useful to operators of other "tonal" metal detectors with a 1-Dimensional Discrimination scale. Other articles of Part II will be posted upon their completion in the future.
May 7, 2013:

I finally added a long-waited article - "XPlained Deus V2.0 and V3.0 Settings, Features and Modes". This article contains lots of useful info for the XP Deus users, both beginners who have been trying to figure out the Deus' settings and experienced detectorists who have been trying to create optimal search programs for specific search conditions and metal detecting tasks. The article is voluminous and explains key settings that affect the XP Deus' performance. This is why it is best to read and reread it a couple of times, and make notes if necessary.
April 8, 2013:

I added a detailed How-To Tutorial - "How To Make Your Metal Detector Headphone Operation Wireless". This tutorial shows how to utilize a digital wireless headphone system for turning your regular land metal detector into a semi-wireless machine. Metal Detecting without a "leash" and the hassle of cords will allow you to enjoy the hobby even more and remain competitive in a "game" whose set of rules has been changed by the factory-made wireless metal detectors.
February 6, 2013:

I added a detailed 50-picture tutorial - "How To Clean Coins & Jewelry with Electrolysis" to my NOW COMPLETED "Guide to Cleaning, Preservation & Conservation of Coins". The winter months is the best time not only for research but also for cleaning numerous clad and badly corroded coins that have been put in a box for later.
January 28, 2013:

I added two tutorials - "How To Remove Tarnish From Silver Coins" and "How To Straighten A Badly Crumpled Silver Coin Without Special Tools", to my "Complete Guide to Cleaning, Preservation & Conservation of Coins" which has been revised, and a few more cleaning methods were also added.
January 6, 2013:

I added an amazing compilation of images of finds supplied to me by an English treasure hunter Dave who relic hunts and coin shoots in Eastern Lincolnshire, UK - Dave in UK - Relic Hunting & Coin Shooting, to "Best Finds of Other Treasure Hunters Around the World" section. The compilation consists of 34 photos and represents finds dating from the Iron Age to the WWI period. Also included is Dave's short note on metal detectors he had used since 1980. Dave started using the XP GoldMaxx Power metal detector last season, so hopefully he will supply me with more pictures of his new great finds.
December 31, 2012:

I added a chapter on "Pinpointers & Electronic Probes" to "My Equipment" section, which includes general info on pinpointers and specifications, Practical Trouble Shooting, Prevention and Operational Tips for the Garrett Pro-Pointer. I also updated other chapters in "My Equipment" section.
December 27, 2012:

I added my section "Detect Hammered Wire Coins" which includes articles on the Early Russian coins, optimal ground surface conditions for detecting hammies, search and recovery techniques, and more. I also added a section on search programs for Minelab E-Trac and CTX 3030 - "Search Programs for Detecting Tiny Wire Coins with E-Trac & CTX 3030", which includes descriptions for four search programs - Level 1,2,3 and 4, designed for both novices and experienced coin shooters. Each search program has two combinations of settings: for low-mineralized and high-mineralized soils.
December 16, 2012:

I added my article "Flaws in Design of XP GoldMaxx Power" in which I describe all flaws in the GoldMaxx Power's physical body design, and how some of them can be fixed.
December 14, 2012:

I added my article "How To Fast Switch Between Your XP Deus Search Programs", while fast fine-tuning your Deus according to current metal detecting conditions, promptly changing to a different pre-set search program to ensure optimal performance, and dealing with "questionable" signals.
December 12, 2012: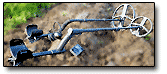 I added my article on "How To Double Up Your XP Deus", what is required, and how to switch the Deus' headphones to their own search coil before detecting with the Deus and its "double" simultaneously.
December 10, 2012:

I added my reviews for XP Deus and GoldMaxx Power metal detectors to "My Metal Detectors" section. Other detector reviews have been revised, and new images have been added to them. For past five months, I have mastered and tested the XP Deus and accumulated a lot of useful info on this revolutionary metal detector, so a few articles will follow soon. My full field-test report on Deus will be first published in some European magazines for treasure hunters, and then, a month later, it will be posted here. The Deus will be my primary metal detector in the 2013 metal detecting season, so expect more articles in the future.
October 30, 2012:

I added a description of my Search Program #2 for Detecting Coins and Non-Ferrous Artifacts in Farm Fields with Minelab E-Trac or CTX 3030. This description covers program settings and modes for detecting targets on either highly mineralized or neutral grounds, and Discrimination patterns including E-Trac's QuickMask and CTX 3030's 2nd Discrimination patterns.
October 28, 2012:

I added an article - "Air Testing", which explains air testing, what valuable information can be gained from it, how to set it up, and what can reduce the detector's penetration depth under real metal detecting conditions.
This Twitter widget is to help you communicate with other metal detectorists and treasure hunters around the world, or to follow me (@metal_detect) right from this web page. Leave a tweet!
Sergei Upstateny
|
Create Your Badge