Metal Detector Reviews - Listed by Price
Compare Users' Reviews, Detectors' Features, Specifications, Prices and Images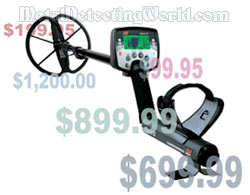 In this section, all metal detectors, treasure hunting systems and instruments are listed according to their Retail Prices.
This listing order will help you compare detectors and instruments within each Price category. You will be able to compare metal detectors' Features, Specifications, Prices and Images, compare users Reviews and Ratings - all information to help you choose the right machine.
Please do not hesitate to contribute by leaving a review if you have already used a metal detector listed here. Your opinion is of a great value to everybody, both the beginners and seasoned treasure hunters! Plus, this is a great opportunity for you to let the manufacturer of your metal detector know what improvements should be made to ensure the most effective search. All metal detector manufacturers read these reviews regularly!
You can see which features and specifications are available for "Turn-On-and-Go" type of metal detectors listed in Metal Detectors for Police.
If you would like to recommend this web page to everyone, please click the button:
PRICE RANGE: $29 - $99

PRICE RANGE: $100 - $149

• Titan MD
All-Purpose Land Metal Detector

• Scanmaster Gold ID
Budget All-Purpose Land Metal Detector

• Scanmaster Gold
Budget All-Purpose Land Metal Detector

• White's AF103
Industrial Utility Metal Detector

PRICE RANGE: $150 - $199

• White's BC4
Beachcomber Junior Metal Detector

• White's AF101
Beachcomber Junior Metal Detector

• White's AF109
Industrial Utility Metal Detector

• White's V & C 10
Industrial Utility Metal Detector

• Tesoro Compadre
All-Purpose Land Metal Detector

• Fisher 1212-X
All-Purpose Land Metal Detector

• Garrett ACE 150
All-Purpose Land Metal Detector

• FriskerPRO
Hand Worn Metal Detector

• Viking V1 (England)
All-Purpose Land Junior Metal Detector

PRICE RANGE: $200 - $299

• White's Prizm II
All-Purpose Land Metal Detector

• Whites BC60
Beachcomber Junior Metal Detector

• Titan 1000 XD
All-Purpose Land Metal Detector

• Fisher F2
All-Purpose Land Metal Detector

• Fisher 1225-X
All-Purpose Land Metal Detector

• Garrett ACE 250
All-Purpose Land Metal Detector

• Garrett CSI 250
All-Purpose Land Metal Detector

• Viking Wasp II
All-Purpose Land Metal Detector

PRICE RANGE: $300 - $399

• Garrett EuroACE
All-Purpose Land Metal Detector

• Golden Mask 1
All-Purpose Land Pulse Metal Detector

• Garrett ACE 350
All-Purpose Land Metal Detector

• White's Prizm IV
All-Purpose Land Metal Detector

• White's PRL-1
Industrial Utility Metal Detector

• Titan 2000XD
All-Purpose Land Metal Detector

• Fisher 1236-X2
All-Purpose Land Metal Detector

• Predator I
All-Purpose Land Metal Detector

• Garrett GTAx 400
All-Purpose Land Metal Detector

PRICE RANGE: $400 - $499

• Golden Mask 3
All-Purpose Land Pulse Metal Detector

• Golden Mask 2
All-Purpose Land Pulse Metal Detector

• Whites Prizm 5G
All-Purpose Land Metal Detector

White's GMZ
Gold Prospecting Metal Detector

• Tesoro Cibola
All-Purpose Land Metal Detector

• Fisher F4
All-Purpose Land Metal Detector

• Predator II
All-Purpose Land Metal Detector

• Garrett GTAx 550
All-Purpose Land Metal Detector

• Headhunter PiratePro
Amphibious Land/Beach/Water Metal Detector

• White's PCL 600
Industrial Utility Metal Detector

PRICE RANGE: $500 - $599

• MP 20 (Germany)
Pulse Induction All-Purpose Land Metal Detector

• NEW Fisher Gold Bug
Gold Nugget/Prospecting Metal Detector

• Fisher F5
All-Purpose Land Metal Detector

• 1st Texas Pilot
All-Purpose Land Metal Detector

• White's IDX Pro
All-Purpose Land Metal Detector

• White's Prizm V
All-Purpose Land Metal Detector

• Whites AF350
Industrial Utility Metal Detector

• Tesoro DeLeon
All-Purpose Land Metal Detector

• Tesoro Vaquero
All-Purpose Land Metal Detector

• Predator III
All-Purpose Land Metal Detector

• Fisher ID Excel
All-Purpose Land Metal Detector

• Nautilus DMC II
All-Purpose Land Metal Detector

• Nautilus DMC I
All-Purpose Land Metal Detector

• Nautilus DMC-IIB
All-Purpose Land Metal Detector

• MP3 Gigital
All-Purpose Land Metal Detector

">

PRICE RANGE: $600 - $699

• Teknetics G2
Multi-Purpose Relic, Coin & Gold Prospecting Metal Detector

• Whites Prizm 6T
All-Purpose Land Metal Detector

• White's QXT Pro
All-Purpose Land Metal Detector

• White's Surfmaster PI Pro
Underwater/Surf/Beach Pulse Induction (PI) Metal Detector

• Tesoro Outlaw
All-Purpose Land Metal Detector

• Tesoro Tejon
All-Purpose Land Metal Detector

• Tesoro Sand Shark
Pulse Induction (PI) Underwater Metal Detector

• Fisher 1270-X
Relic Hunting Metal Detector

• Fisher 1270
All-Purpose Land Metal Detector

• Garrett AT Pro
All-Purpose Land Metal Detector

• Garrett GTP 1350
All-Purpose Land Metal Detector

• MP3 Pro
All-Purpose Land Metal Detector

• MPX Digital
All-Purpose Land Metal Detector

PRICE RANGE: $700 - $799

• Tesoro Tiger Shark
Underwater/Surf/Beach Metal Detector

• Minelab X-Terra 70
All-Purpose Land/Gold Nugget Metal Detector

• White's MXT
All-Purpose Land Metal Detector

• Cobra Wader
Underwater/Land Metal Detector

• Fisher Gold Bug DP
Gold Nugget/Prospecting Metal Detector

• Fisher ID Edge
All-Purpose Land Metal Detector

• Fisher Impulse
Land & Sea Pulse Metal Detector

• Garrett AT Gold
Gold Prospecting and Relic Hunting Metal Detector

• Garrett GTI 1500
All-Purpose Land Metal Detector

• Troy Shadow X2
All-Purpose Land Metal Detector

• Viper
Underwater/Land Metal Detector

• Aurora Aqua Pulse
Wrist-Mount Underwater Pulse Induction (PI) Metal Detector

• Fisher F70
All-Purpose Land Metal Detector

PRICE RANGE: $800 - $899

• Tesoro Cortes
All-Purpose Land Metal Detector

• Fisher Gold Bug 2
Gold Nugget/Prospecting Metal Detector

• Fisher Gold Strike
Gold Nugget/Prospecting Metal Detector

• Fisher CZ-5
All-Purpose Land Metal Detector

• Troy Shadow X3
All-Purpose Land Metal Detector

• Viper Trident
Underwater/Land Metal Detector

• Nautilus DMC II
All-Purpose Land Metal Detector

PRICE RANGE: $900 - $999

• Minelab Eureka Gold
Gold Nugget/Prospecting Metal Detector

• Fisher CZ-3D
All-Purpose Land Metal Detector

• Teknetics T2
All-Purpose Land Metal Detector

• ScanMaster 2008 "Dual"
Omnitron Scanner with Quad Collector System

PRICE RANGE: $1,000 - $1,499

• Minelab Safari
All-Purpose Land Metal Detector

• Minelab Excalibur II
Amphibious Underwater/Surf/Beach/Land Metal Detector

• White's DFX
All-Purpose Land Metal Detector

• Cobra
Underwater/Land Metal Detector

• Fisher F75
All-Purpose Land Metal Detector

• Fisher CZ-70 Pro
All-Purpose Land Metal Detector

• Garrett GTI 2500
All-Purpose Land Metal Detector

• Garrett Infinium LS
Water/Land Pulse Induction (PI) Metal Detector

• Troy Shadow X5
All-Purpose Land Metal Detector

• Blisstool LTC64X
All-Purpose Land Metal Detector

• Nokta Golden Sense
Gold Nugget/Deep Target Metal Detector

PRICE RANGE: $1,500 - $2,199

• XP Deus (France)
All-Purpose Land Wireless Metal Detector

• Minelab E-Trac
All-Purpose Land Metal Detector with PC Interface

• Minelab SD 2100v2
Gold Nugget/Prospecting PI Metal Detector

• White's TDI Pro
Gold Prospecting Pulse Induction Metal Detector

• White's TDI
Gold Prospecting Pulse Induction Metal Detector

• Lorenz LPX2
Deep Seeking Metal Detector

PRICE RANGE: $2,200 - $4,999

• Lorenz LP5
Pulse Induction Deepseeking Metal Detector

• Minelab CTX-3030
All-Purpose Land Metal Detector with GPS

• Minelab GPX-4000
Gold Nugget/Prospecting PI Metal Detector

• Minelab GP 3500
Gold Nugget/Prospecting Metal Detector

• Minelab SD 2200v2
Gold Nugget/Prospecting PI Metal Detector

• Makro JeoTech
Deep Seeking Metal Detector

• OKM Black Hawk
All-Terrain Pulse Induction (PI) Metal Detector

• OKM Cavefinder
Geo-electronic locator for searching caves

• ScanMaster 1550 Quad
Professional Treasure Hunting Quad Collector System

• ScanMaster 1550
Professional Treasure Hunting Quad Collector System

PRICE RANGE: $5,000 - $9,999

• Minelab GPX 5000
Deep Gold Prospecting PI Metal Detector

• Minelab GPX 4800
Deep Gold Prospecting PI Metal Detector

• Makro JeoHunter
Deep-Seeking 3D Dual System Metal Detector

• Makro JeoScan
2D Metal Detecting System with 1 Search Coil

• OKM Evolution
3D Ground Scanner/Metal Detector

• GPL 200
Ground Penetrating Locator

• GPL 100
Ground Penetrating Locator

• GPL VIII
Ground Penetrating Locator

• OKM Rover Deluxe
Ground Penetrating Metal Detector

• OKM Rover C
Ground Penetrating Metal Detector

• Minelab's GPX 4500
Gold Nugget/Prospecting Metal Detector

PRICE RANGE: $10,000 - $14,999

• Lorenz Deepmax X6
Deep Searching PI Metal Detector

• JW Fisher RMD-1
Boat Towed Underwater Metal detector/Remote Metal Detector (ROV)

• OKM eXp 4000
Ground Penetrating Metal Detector

• OKM Grail Finder
Ground Penetrating Magnetometer/Scanner

PRICE RANGE: $15,000 - $19,999

PRICE RANGE: $20,000 - $29,999

• OKM Future 2005
Ground Penetrating Metal Detector

• OKM eXp 5000
Ground Penetrating Metal Detector

PRICE RANGE: $30,000 and Up

• OKM Future I-160
Ground Penetrating Metal Detector
Reviews Directory page | MetalDetectingWorld Home