2-Box Metal Detectors
Users' Reviews and Ratings, Detector Prices, Features, Specifications & Images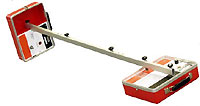 Standard metal detectors with Transmit/Receive Searchcoils are limited in depth and are restricted to a scan area no larger than their searchcoils. A 2-Box Metal Detector is designed to detect large and deeply buried targets, such as money caches, relics, treasure chests, safes, coin hoards, metal boxes, large metal objects and ore veins, down to five feet deep. The 2-box detectors have been also used by public utility employees to find buried cables, pipes, voids/spaces, caverns, old wells and tunnels.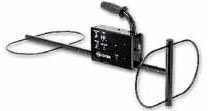 Unlike a regular searchcoil, the transmitter and receiver of the 2-box metal detector are separated from each other, thereby widening and deepening the detection field so that more information about a detected target can be retrieved and processed. Because it ignores the targets that are smaller than a soda can, the 2-box deep searcher is especially useful in areas with a lot of trash. If you are excited about cache hunting and searching for treasures that were purposely buried and hidden rather than accidently lost or misplaced, you need a two box deep searcher to find the deeper caches and hidden hoards that standart single-coil detectors simply cannot find.
Below is a full list of all 2-Box Metal Detectors available on the market today. Here you will be able to compare users Ratings and Opinions, metal detectors' Features, Specifications and Prices, and see each 2-box metal detector's image - all information to help you choose the right 2-box metal detector for your treasure hutning projects.
Please do not hesitate to contribute by leaving a review if you have already used any detector listed here. Your opinion is of a great value to everybody, both the beginners and seasoned treasure hunters! Plus, this is a great opportunity for you to let the manufacturer of your 2-box metal detector know what improvements should be made to ensure the most effective search. All metal detector manufacturers read these reviews regularly!
If you would like to recommend this web page to everyone, please click the button:
If you would like to recommend this web page to everyone, please click the button:
Reviews Directory page | MetalDetectingWorld Home