Land Metal Detectors for Police Crime Scene Unit
Compare Users' Reviews, Detectors' Features, Specifications, Prices and Images
Listed in this section are the All-Purpose Land Metal Detectors suitable for the police crime scene unit's investigation that sometimes requires searching for metallic objects at the crime scene. Also listed here are the Hand Held metal detectors that effectively target all ferrous, non-ferrous and stainless steel weapons, contraband and other metallic objects which are secreted on or in individuals.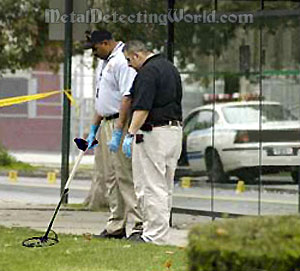 I receive many e-mails from the police officers who seek an advice on what type of metal detectors could be the best for their crime evidence search. Basically they ask me the same question: "What metal detector would be easy to operate and not too expensive just as long as it gets the job done?" This inspired me to create a list of all metal detectors that provide maximum of performance while requiring minimal operator adjustment. The list breaks down into different price ranges thus allowing to find a detector that suits any budget of the Police Department.
Considering the variety of the crime scene unit's metal detecting tasks, from locating the brass shell casings discarded in grassy areas, or detecting the buried evidence (crime weapons, ammunition, etc.), I listed only metal detectors of a Turn-On-and-Go type. Such detectors allow an operator to avoid spending time for tuning and adjusting the metal detector.
The following key-features of metal detectors are essential for the police metal detecting tasks:
• Automatic Ground Balance (a mode of operation in which the detector is adjusted to optimally reduce the interference that ground mineralization imposes) - to avoid the annoying process of tuning and adjusting the detector.
• Automatic Ground Tracking and Tuning (Automatic Retuning - continuous control of circuit drift caused by mineral interference) - to avoid re-adjusting your metal detector to changing ground conditions.
• Waterproof/Submersible Search Coil - to metal detect in shallow waters (the control box cannot be submersed). More expensive and advanced metal detectors have optional, 3-3/4 inch, 5 inch, 8 inch, 9.5 inch and 10-1/2 inch interchangeable search coils.
• LCD Display - Liquid Crystal Display, preferrably with a back light (for night operations), wich indicates battery condition, depth level, sensitivity indicator and target icons, and Full Discrimination on LCD Readout: Iron/Aluminum/Copper/Silver/Gold/Coins/Trash
• Pinpoint facility for accurate location and careful recovery of targets
• Full Range Notch Discrimination (to manually "notch-out" a specific range of metallic items). More advanced dual coordinate "Dot" Discrimination allows to discriminate all targets but one particular type - for example, the detector will locate only 9mm brass shell casings without "picking up" other metallic objects, including junk (bottle cups, foil, coins, etc.) present at the crime scene. Dual Coordinate Discrimination is available only on Minelab Explorer metal detectors.
• Lightweight and Durable Construction with 3 Piece Breakdown (breaks down into a compact package)
Each price range includes a list of those key-features that are available on detectors in that category. The number of key-features increases in each price range consecutively.
Most of the police metal detecting tasks can be carried out with cheap metal detectors, even with the most primitive Land Junior Metal Detectors, but with these machines it will take a crime unit much longer time to accomplish their work. The advanced metal detectors will provide a faster and more accurate locating of all desirable targets, thus allowing to cut metal detecting time considerably.
Below is a full list of all metal detectors in question available on the market today. Here you will be able to compare metal detector Reviews and Ratings left by users, detectors' Features, Specifications, Prices, and see metal detector Images - all information to help you utilize the right instrument.
Please do not hesitate to contribute by leaving a review if you have already used any detector listed here. Your opinion is valuable to all!
If you would like to recommend this web page to your colleagues, please click the button:
PRICE RANGE: $29 - $99

Key-Features:
. Detecting depth of coin-sized objects up to 6 inches deep only
. Full automatic operating system
. Waterproof search coil
. Some offer Pinpoint facility and headphone jack

American Hawks Basic
Land Metal Detector Junior
Retail Price: $29.99

American Hawks Explorer
Land Metal Detector Junior
Retail Price: $59.99

Black Knight Magpie (England)
Land Metal Detector Junior
Retail Price: $99.00 (£49.99)
PRICE RANGE: $100 - $149

Key-Features:
. Detecting depth of coin-sized objects up to 7 inches deep; larger objects up to 2 feet
. Automatic Tuning
. Automatic ground balance
. Waterproof search coil
. Some offer Pinpoint facility and visual LED indicator (lighting green when a good target is located)
. 1/4 inch headphone jack

Bounty Hunter Tracker II
All-Purpose Land Metal Detector
Retail Price: $129.95

Black Knight Magpie Plus (England)
All-Purpose Land Junior Metal Detector
Retail Price: $119.00 (£59.99)

Titan MD
All-Purpose Land Metal Detector
List Price: $148.95

PRICE RANGE: $150 - $199

Key-Features:
. Detecting depth of coin-sized objects up to 8 inches deep; larger objects up to 2 feet
. Turn-On-and-Go operation
. Automatic Tuning
. Automatic ground balance
. Full range discrimination
. Large LCD (Liquid Crystal Display)
. Low Battery Indicator
. Coin Depth Indicator
. Waterproof search coil
. Some offer Tone ID
. Pinpoint facility
. 1/4 inch headphone jack

Fisher 1212-X
All-Purpose Land Metal Detector
Retail Price: $199.95

Garrett ACE 150
All-Purpose Land Metal Detector
Retail Price: $179.95

American Hawks Navigator
All-Purpose Land Metal Detector
Retail Price: $199.95

PRICE RANGE: $200 - $299

Key-Features:
. Detecting depth of coin-sized objects up to 8 inches deep; larger objects up to 3 feet
. Turn-On-and-Go operation
. Automatic Tuning
. Automatic ground balance
. Full range discrimination
. Large LCD Display
. Low Battery Indicator
. Coin Depth Indicator
. Waterproof search coil
. Tone ID, 3 Levels
. Pinpoint facility
. 1/4 inch headphone jack
. 3 Piece Breakdown Stem breaks down into a compact package for travel
. Longer (25 hours) battery life
. Some offer optional Interchangeable search coils

Garrett CSI 250
All-Purpose Land Metal Detector
Retail Price: $279.95

Garrett ACE 250
All-Purpose Land Metal Detector
Retail Price: $250

Bounty Hunter Lone Star
All-Purpose Land Metal Detector
Retail Price: $219.95

Fisher F2
All-Purpose Land Metal Detector
Retail Price: $249.00

Fisher 1225-X
All-Purpose Land Metal Detector
Retail Price: $299.95

Garrett Treasure Ace 300
All-Purpose Land Metal Detector
Retail Price: $299.95

PRICE RANGE: $300 - $399

Key-Features:
. Detecting depth of coin-sized objects up to 9 inches deep; larger objects up to 4 feet
. Turn-On-and-Go operation
. Automatic Tuning, Ground Track
. Automatic ground balance
. Large LCD Readout System
. Full Discrimination on LCD Readout: Iron/Aluminum/Copper/Silver/Gold/Coins/Trash
. No Motion All Metal Mode of Operation
. Low Battery Indicator
. Coin Depth Indicator
. Waterproof search coil
. Tone ID, 3 Levels
. No-motion Pinpointing
. 1/4 inch headphone jack
. 3 Piece Breakdown Stem breaks down into a compact package for travel
. Longer (25 hours) battery life
. Some offer optional, 3-3/4 inch, 5 inch and 10-1/2 inch Interchangeable search coils
. Lightweight and durable construction

Treasure Hunter Vision Pro
All-Purpose Land Metal Detector
Retail Price: $395.95

Fisher 1236-X2
All-Purpose Land Metal Detector
Retail Price: $399.95

Titan 2000XD
All-Purpose Land Metal Detector
List Price: $399.95

PRICE RANGE: $400 - $499

Key-Features:
. Detecting depth of coin-sized objects up to 10 inches deep; larger objects up to 5 feet
. Turn-On-and-Go operation
. Automatic Tuning, Ground Track
. Automatic ground balance
. Full Range Notch Discrimination (to manually "notch-out" a specific range of items)
. Large LCD Readout System
. Full Discrimination on LCD Readout: Iron/Aluminum/Copper/Silver/Gold/Coins/Trash
. No Motion All Metal Mode of Operation
. Low Battery Indicator
. Depth Indication
. Submersible search coil
. Tone ID, 3 Levels
. No-motion Pinpointing
. 1/4 inch headphone jack
. 3 Piece Breakdown Stem breaks down into a compact package for travel
. Longer (25 hours) battery life
. Some offer optional, 3-3/4 inch, 5 inch and 10-1/2 inch Interchangeable search coils
. Lightweight and durable construction

Garrett Investigator 500
All-Purpose Land Metal Detector
Retail Price: $499.95

Bounty Hunter Land Star
All-Purpose Land Metal Detector
Retail Price $449.95

Bounty Hunter Camo-LS
All-Purpose Land Metal Detector
Retail Price: $449.95

PRICE RANGE: $500 - $599

Key-Features:
. Detecting depth of coin-sized objects up to 10 inches deep; larger objects up to 5 feet
. Turn-On-and-Go operation
. Automatic Tuning, Ground Track
. Automatic ground balance
. Full Range Notch Discrimination (to manually "notch-out" a specific range of items)
. Large LCD Readout System with Easy-to-Read Graphics
. Full Discrimination on LCD Readout: Iron/Aluminum/Copper/Silver/Gold/Coins/Trash
. No Motion All Metal Mode of Operation
. Low Battery Indicator
. Depth Indication
. Submersible search coil
. Tone ID, 4 Levels; some offer 8 distinctive audible tones for different metals
. Trigger Pinpointing switches to "All-Metal" for easy pinpointing
. 1/4 inch headphone jack
. 3 Piece Breakdown Stem breaks down into a compact package for travel
. Slide-in 8 "AA" battery system delivers up to 50 hours of battery life
. Optional, 3-3/4 inch, 5 inch, 8 inch, 9.5 inch and 10-1/2 inch Interchangeable search coils
. Lightweight and durable construction

Fisher ID Excel
All-Purpose Land Metal Detector
Retail Price: $599.95

MP5 Pro Swift Seeker
All-Purpose Land Metal Detector
Retail Price: $599.95

Laser Scout (England)
All-Purpose Land Metal Detector
Retail Price: $599.00 (£299.00)

PRICE RANGE: $600 - $699

Key-Features:
. Detecting depth of coin-sized objects up to 10 inches deep; larger objects up to 5 feet
. Turn-On-and-Go operation
. Fully automatic ground tracking and tuning - use on all soil types
. Full Range Notch Discrimination (to manually "notch-out" a specific range of items)
. LCD Meter indicates battery condition, depth level, sensitivity indicator and target icons
. Full Discrimination on LCD Readout: Iron/Aluminum/Copper/Silver/Gold/Coins/Trash
. No Motion All Metal Mode of Operation
. Built-in loud audio speaker - let's you hear finds even in noisy areas
. Low Battery Indicator
. Depth Indication
. Submersible search coil
. Tone ID, 7 Levels; some offer 8 distinctive audible tones for different metals
. Trigger Pinpointing switches to "All-Metal" for easy pinpointing
. 1/4 inch headphone jack
. 3 Piece Breakdown Stem breaks down into a compact package for travel
. lower adjustable stem - Easily adjust to users height
. Slide-in AA battery pack for up to 40 hours of hunting
. Optional, 3-3/4 inch, 5 inch, 8 inch, 9.5 inch and 10-1/2 inch Interchangeable search coils
. Lightweight and durable construction
. Built-in detector stand - Keeps detector off the ground. No dirt, no sand

MPX Digital
All-Purpose Land Metal Detector
Retail Price: $699.95

White's Matrix M6
All-Purpose Land Metal Detector
Retail Price: $699.95

PRICE RANGE: $700 - $799

Key-Features:
. Detecting depth of coin-sized objects up to 12 inches deep; larger objects up to 5 feet
. Turn-On-and-Go operation
. Fully automatic ground tracking and tuning - use on all soil types
. Automatic Ground Balance (from mountain minerals to salt water)
. Full Range Notch Discrimination (to manually "notch-out" a specific range of items)
. LCD Meter indicates battery condition, depth level, sensitivity indicator, target icons and more
. Full Discrimination on LCD Readout: Iron/Aluminum/Copper/Silver/Gold/Coins/Trash
. No Motion All Metal Mode of Operation
. Built-in loud audio speaker - let's you hear finds even in noisy areas
. Low Battery Indicator
. Depth Indication
. Overload alert
. Submersible search coil
. Tone ID, 7 Levels; some offer 8 distinctive audible tones for different metals
. Trigger Pinpointing switches to "All-Metal" for easy pinpointing
. 1/4 inch headphone jack
. 3 Piece Breakdown Stem breaks down into a compact package for travel
. lower adjustable stem - Easily adjust to users height
. Slide-in AA battery pack for up to 40 hours of hunting
. Nicad Rechargeable system available
. Optional, 3-3/4 inch, 5 inch, 8 inch, 9.5 inch and 10-1/2 inch Interchangeable search coils
. Lightweight and durable construction
. Built-in detector stand - Keeps detector off the ground. No dirt, no sand

White's MXT
All-Purpose Land Metal Detector
Retail Price: $799.95

Laser Rapier (England)
All-Purpose Land Metal Detector
Retail Price: $749.00 (£370.00)

PRICE RANGE: $800 - $899

Key-Features:
. Detecting depth of coin-sized objects up to 13 inches deep; larger objects up to 5 feet
. 5 Turn-on-and-Go Programs
. Fully automatic ground tracking and tuning - use on all soil types
. Automatic Ground Balance (from mountain minerals to salt water)
. Full Range Notch Discrimination (to manually "notch-out" a specific range of items)
. LCD Meter indicates battery condition, depth level, sensitivity indicator, target icons and more
. Full Discrimination on LCD Readout: Iron/Aluminum/Copper/Silver/Gold/Coins/Trash
. No Motion All Metal Mode of Operation
. Built-in loud audio speaker - let's you hear finds even in noisy areas
. Low Battery Indicator
. Depth Indication
. Overload alert
. Submersible search coil
. Wet-sand operation
. Tone ID offer distinctive audible tones for different metals
. Trigger Pinpointing switches to "All-Metal" for easy pinpointing
. 1/4 inch headphone jack
. 3 Piece Breakdown Stem breaks down into a compact package for travel
. lower adjustable stem - Easily adjust to users height
. Slide-in AA battery pack for up to 40 hours of hunting
. Nicad Rechargeable system available
. Optional, 3-3/4 inch, 5 inch, 8 inch, 9.5 inch, 10-1/2 and 15 inch Interchangeable search coils
. Lightweight and durable construction
. Built-in detector stand - Keeps detector off the ground. No dirt, no sand
. Control box can be handle or hip mounted

Fisher CZ-5
All-Purpose Land Metal Detector
Retail Price: $849.95

White's XLT E-Series
All-Purpose Land Metal Detector
Retail Price: $899.95

PRICE RANGE: $900 - $999

Key-Features:
. Detecting depth of coin-sized objects up to 13 inches deep; larger objects up to 5 feet
. 5 Turn-on-and-Go Programs
. Fully automatic ground tracking and tuning - use on all soil types
. Automatic Ground Balance (from mountain minerals to salt water)
. Full Range Notch Discrimination (to manually "notch-out" a specific range of items)
. LCD Meter indicates battery condition, depth level, sensitivity indicator, target icons and more
. Full Discrimination on LCD Readout: Iron/Aluminum/Copper/Silver/Gold/Coins/Trash
. No Motion All Metal Mode of Operation
. Built-in loud audio speaker - let's you hear finds even in noisy areas
. Low Battery Indicator
. Depth Indication
. Overload alert
. Submersible search coil
. Wet-sand operation
. Tone ID offer distinctive audible tones for different metals
. Trigger Pinpointing switches to "All-Metal" for easy pinpointing
. 1/4 inch headphone jack
. 3 Piece Breakdown Stem breaks down into a compact package for travel
. lower adjustable stem - Easily adjust to users height
. Drop-in battery compartment
. Optional Interchangeable search coils

Fisher CZ-3D
All-Purpose Land Metal Detector
Retail Price: $949.95

Cobra Beach Magnet
Land/Beach/Surf and Underwater
Retail Price: $995.95

PRICE RANGE: $1,000 - $1,299

Key-Features:
. Detecting depth of coin-sized objects up to 14 inches deep; larger objects up to 5 feet
. 9 Turn-on-and-Go Programs
. Fully automatic ground tracking and tuning - use on all soil types
. Automatic Ground Balance (from mountain minerals to salt water)
. Full Range Notch Discrimination (to manually "notch-out" a specific range of items)
. LCD Meter indicates battery condition, depth level, sensitivity indicator, target icons and more
. Full Discrimination on LCD Readout: Iron/Aluminum/Copper/Silver/Gold/Coins/Trash
. No Motion All Metal Mode of Operation
. Built-in loud audio speaker - let's you hear finds even in noisy areas
. Low Battery Indicator
. Depth Indication
. Overload alert
. Submersible search coil
. Wet-sand operation
. Tone ID offer distinctive audible tones for different metals
. Trigger Pinpointing switches to "All-Metal" for easy pinpointing
. 1/4 inch headphone jack
. 3 Piece Breakdown Stem breaks down into a compact package for travel
. lower adjustable stem - Easily adjust to users height
. Drop-in battery compartment
. Optional Interchangeable search coils
. Belt, hip, or chest mountable

Fisher CZ-70 Pro
All-Purpose Land Metal Detector
Retail Price: $1,095.95

White's DFX
All-Purpose Land Metal Detector
Retail Price: $1,099.95

Laser Hawkeye (England)
All-Purpose Land Metal Detector
Retail Price: $1,199.00 (£599.00)

PRICE RANGE: $1,200 - $1,499

In this price range, there is only one metal detector that is unique in its own class - Minelab Explorer SE (also Minelab Explorer SE Pro is available on the market). Besides having the most number of the key-features for the crime scene investigative metal detecting, it features a revolutionary dual coordinate "Dot" Discrimination. It allows an operator to set the discrimination pattern that includes only one particular target, for example, a brass casing for the 9mm bullet, anything else would be rejected (not detected) by the machine. No other metal detector on the market today has this amazing capability.

Specifications of Minelab Explorer SE:
. Turn-On-and-Go Operation
. Detecting depth of coin-sized objects up to 16 inches deep; larger objects up to 5 feet
. Fully automatic ground tracking and tuning - use on all soil types
. Automatic Ground Balance (from mountain minerals to salt water)
. Technology: Full Band Spectrum (FBS)
. Transmit Frequency: 28 Frequencies (1.5, 3, 4.5....100kHz)
. 2-Dimensional Custom Selection Discrimination
. Saved Discrimination Patterns: 6
. User Saved Settings (audio, tones, etc.)
. Digital Meter: Smartfind Technology
. Learn Function (Accept/Reject)
. Built-in loud audio speaker - let's you hear finds even in noisy areas
. Low Battery Indicator
. Depth Indication
. Submersible search coils
. Tone ID offer distinctive audible tones for different metals
. 1/4 inch headphone jack
. Configuration: Shaft mounted; breaks down into a compact package for travel
. lower adjustable stem - Easily adjust to users height
. Slide-in 8 AA battery pack for up to 40 hours of hunting or NiMH Rechargeable Battery: 9.6V, 1600mAh
. Batteries: (8) 1600 mAh NiMH or Alkaline batteries
. Mains Charger: 110V (USA), 230V (EU), 240V (AUS)
. Charger: 12V, Cigarette lighter plug
. Weight: 3.7 lbs (excluding batteries)
. Optional, 7-1/2" Double D (DD) , 8" DD, 10.5" DD and 15" DD Interchangeable search coils
. Detector Stand
Retail Price: $1,400.00

HAND HELD METAL DETECTORS

. The FriskerPRO
Hand Worn Metal Detector, Hand Held Metal Detector
Retail Price: $179.95

. Garrett SuperWand
Hand Held Metal Detector
Retail Price: $199.95

. Garrett SuperScanner
Hand Held Metal Detector
Retail Price: $179.95

. Torfino Metal-Tec
Hand Held Metal Detector
Retail Price: $179.95

. Pro-Scan
Hand Held Metal Detector
Retail Price: $89.95

. American Hawks
Handheld Metal Detector Wand
Retail Price: $26.35
If you would like to recommend this web page to your colleagues, please click the button:
Metal Detecting Reviews page | Useful Tips | MetalDetectingWorld Home