C Scope CS 4PI Reviews, Price and Specifications
All-Purpose Land Pulse Metal Detector
Retail Price: $419.00 (£208.99)
Number of Reviews: 6
Avg. Rating (4.7 Stars)

Email this page to a friend.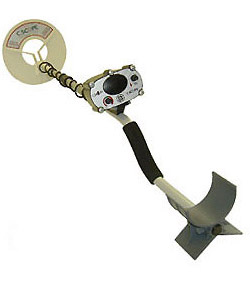 Specifications:
• High sensitivity, Pulse Induction
• Operating System: Non-motion (automatic slow retune)
• Search coil: 25cm (9.8") POLO search head
• Battery Power: 8 x AA 1.5 volt
• Frequency control - Variable (1000 - 4200 PPS)
• Belt mountable
• Highly tuned electronics
• Adjustable stem length
• Counterbalanced stem with armrest
• Headphone socket
• Weatherproof design
• Weight: 2.1Kg (4.2lbs)
• Ideal For: Beaches and sites with difficult ground conditions
Powerfull Easy To Use Quality Detector - Great for Beach!
Mark in uk -

Just recently I bought a CS4PI (£264 inc h/fones/coil cover + batts) which is a good price in the UK. I have had various brands of detectors for dry land use including Garett, Minelab and White's. The CS4PI is a refreshingly simple machine to use - only 2 settings, and away you go and, boy, does she go deep 10 inches + easily! And having the option of hip mountable control box is great! Coupled with my PI Vibra-probe 580, it makes beach/wet sand detecting easy and as good as a Garrett Sea Hunter, as long as you don't want to submerge the control box. Happy using 1.2v rechargeable batteries (using h/fones saves on battery). A great product which I've been told is a legendary back-up from C-Scope!
Sep 09, 2012
14 people found Mark's review helpful.
C Scope 4PI
Fred Palfrey in uk -

After looking at other peoples reviews on the C Scope 4PI, I'm thinking of buying one. I dig for every thing any way. Cheers for your reviews and happy hunting!
Jul 21, 2012
2 people found Fred Palfrey's review helpful.
My New Best Mate
Russ in uk -

Just got a 4pi. I dont know much about detectors and haven't been doing it long but want to move to the beach and the 4pi seems a good sensibly priced machine. I have tried it in a field and it worked fine.
I found lots of stuff nothing valuable but the tone does sound clearer or louder for different things. After a lot of use, it should get easier. I can't wait to get it to a beach. I had a mishap with the control box retaining clip, emailed cscope, and they sent one out straight away. I was supprised how soon it came. So well done, cscope! And beaches full of lolly - here I come. By the way, I don't mind lots of digging. I don't use much disc on my other detector anyway.
Dec 05, 2011
5 people found Russ's review helpful.
Best Metal Detecter by Far
Gerald Longman in u/k -

Hi! I use my 4psi for land and beach. I've been detecting for 30 years and used most of the detectors. To date, this is the best machine I have had. My advise: listen to your p/i! You will be the discriminator, not the machine. PI detector goes deep. I only dig on a clear signal. Yes, at times, I get false ones. In given time, you will pick them out as you do iron. The p/i is well made fit for the job. I sold my 3 mx because the p/i is better all around. I only dig about 12 inches deep. On land or beach, most things are found at that depth. WHY dig forever? It is only a good hobby. But that is me. At least my p/i is going deeper than most machines at a good price. Ok, on land I run her at 3.00 in green and just off the threshold. On land - 3.30 green, and just switch on Silent. After many days out, these I find the best settings. Who needs dials to tell you, "maybe it's gold, etc." YOU CAN DO THAT yourself if you listen to your detector's signals. This machine will save you money. Good hunting and enjoy!
Mar 04, 2011
29 people found Gerald Longman's review helpful.
Outstaning!
Johnny Boy in uk -

CS 4PI is the best beach detector by miles. I have found gold rings in the black sand. My moto is "dig everything!" One never can tell just what is down there.
Feb 03, 2011
17 people found Johnny Boy's review helpful.
Beach Machine
JB in usa -

If you just hunt the sand (control box is not waterproof), then this unit is for you. It's well made, light, easy to use, and it punches deeeep. You will not be disappointed! Happy hunting!
Aug 23, 2010
33 people found JB's review helpful.